Sponsoring Organizations
Exhibits & Sponsors
Prospective sponsors and exhibitors, please click here
Gold Sponsors

Boeing

Boeing is the world's leading aerospace company and the largest manufacturer of commercial jetliners and military aircraft combined. Additionally, Boeing designs and manufactures rotorcraft, electronic and defense systems, missiles, satellites launch vehicles and advanced information and communication systems. As a major service provider to NASA, Boeing operates the Space Shuttle and International Space Station. The company also provides numerous military and commercial airline support services. Boeing has customers in more than 90 countries around the world and is one of the largest U.S. exporters in terms of sales

Eaton

Eaton is a diversified power management company providing energy-efficient solutions that help our customers effectively manage electrical, hydraulic and mechanical power. With 2012 sales of $16.3 billion, Eaton is a global technology leader in electrical products, systems and services for power quality, distribution and control, power transmission, lighting and wiring products; hydraulics components, systems and services for industrial and mobile equipment; aerospace fuel, hydraulics and pneumatic systems for commercial and military use; and truck and automotive drivetrain and powertrain systems for performance, fuel economy and safety. Eaton has approximately 103,000 employees and sells products to customers in more than 175 countries. For more information, visit www.eaton.com.



Halliburton

Founded in 1919, Halliburton is one of the world's largest providers of products and services to the energy industry. With more than 72,000 employees, representing 140 nationalities in approximately 80 countries, the company serves the upstream oil and gas industry throughout the lifecycle of the reservoir – from locating hydrocarbons and managing geological data, to drilling and formation evaluation, well construction and completion, and optimizing production through the life of the field. Visit the company's website at www.halliburton.com.

Honeywell

Honeywell is a Fortune 100 company that invents and manufactures technologies to address tough challenges linked to global macrotrends such as safety, security, and energy. With approximately 122,000 employees worldwide, including more than 20,000 engineers and scientists, we have an unrelenting focus on quality, delivery, value, and technology in everything we make and do. Honeywell has a proud heritage of leadership and excellence in control systems and continues to advance the technology with applications for homes, buildings and industrial facilities; aircraft and spacecraft; and automotive systems.

MathWorks

The MATLAB and Simulink product families are fundamental computational tools at the world's educational institutions. Adopted by more than 5000 universities and colleges, MathWorks products accelerate the pace of learning, teaching, and research in engineering and science. MathWorks products also help prepare students for careers in industry worldwide, where the tools are widely used for collaborative new product development. www.mathworks.com/academia

Mitsubishi

Mitsubishi Electric Research Laboratory (MERL), located in Cambridge, MA, is the North American R&D organization for Mitsubishi Electric Corporation, a $38B global manufacturer of electrical products including elevator and escalators, HVAC systems, electrical power systems, satellites, factory automation equipment, automotive electronics and visual information systems. Controls researchers at MERL collaborate with corporate R&D laboratories, business units in Japan and academic partners around the world to develop new control algorithms and control technologies that extend the performance envelope of these systems.

National Instruments

National Instruments is committed to enhancing engineering and science education and research worldwide by providing powerful graphical system design software and modular hardware to connect the curriculum with the real world. Professors and students benefit from industry-leading, professional tools such as NI LabVIEW graphical development software, which helps students visualize and implement engineering concepts and real-time data acquisition devices. The integration of LabVIEW in the classroom creates an effective, dynamic learning environment – from primary schools to research laboratories in universities worldwide. NI also offers resources to universities to support laboratories, research and student programs and competitions. For more information about NI academic products, curriculum resources, and discounts, visit www.ni.com.

United Technologies Research Center (UTRC)

United Technologies Research Center (UTRC) delivers advanced technologies to the businesses of United Technologies Corporation (NYSE: UTX) to improve the performance, energy efficiency and cost of UTC products and processes. UTC is a diversified company that provides a broad range of high-technology products and services to the global aerospace and building systems industries. Its commercial businesses are Otis elevators and escalators as well as UTC Climate, Controls & Security, a leading provider of heating, ventilation, air conditioning, fire and security systems, building automation and controls. The company's aerospace businesses are Sikorsky aircraft and UTC Propulsion & Aerospace Systems, which includes Pratt & Whitney aircraft engines and UTC Aerospace Systems aerospace products. UTRC partners with United Technologies business units and external research organizations to expand the boundaries of science and technology through research and innovation, delivering technology options that meet and anticipate the needs of the marketplace. Founded in 1929, United Technologies Research Center is located in East Hartford, Conn., with an office in Berkeley, Calif., and research and development centers in Shanghai, China, and Cork, Ireland. United Technologies Research Centre Ireland, Ltd. (UTRC Ireland), established in 2009, operates as the European location of UTRC and is part of UTRC's mission to expand its collaborative activities while leveraging a global network of innovation. Located in Cork, Ireland, UTRC Ireland undertakes research and development for the next generation of energy and security systems for high performance buildings. Recently, UTRC Ireland expanded its research capability to include aerospace systems to support a large UTC industrial presence in Europe.

Xerox

Headquartered in Norwalk, CT, and with 140,000 employees in 160 countries, Xerox is a Fortune 500 company. Through our acquisition of Affiliated Computer Services, Xerox is now the world's leading enterprise for business process and document management, offering global services. In addition to digital printing systems, the new Xerox is dedicated to innovation in transportation, healthcare, finance, and Information Technology services. Control theory continues to play a key role in this new space
Silver Sponsors




DESY

Deutsches Elektronen-Synchrotron (DESY) is one of world's leading accelerator centres. DESY develops, builds and operates large accelerators facilities, which are used to investigate the structure of matter. The combination of photon science and particle physics at DESY is unique in Europe. For over 50 years, DESY's fundamental research in a range of scientific fields has led to practical applications. DESY is a publicly funded national research centre and member of the Helmholtz Association. DESY is focusing on three principal areas:

Accelerators: DESY develops, builds and operates large facilities that accelerate particles to extremely high energies.
Photon science: Physicists, chemists, geologists, biologists, medical researchers and materials scientists use the special light from DESY's accelerators to observe structures and processes in the microcosm.
Particle physics: Scientists from around the world use DESY's accelerators to investigate the fundamental building blocks and forces of the universe.

The spectrum of research at DESY is correspondingly diverse – as is the cooperation with partners both national and international. DESY is closely involved in a number of major international projects, including the European X-ray free-electron laser XFEL in Hamburg, the Large Hadron Collider LHC in Geneva, the neutrino telescope IceCube at the South Pole and the International Linear Collider ILC.
To learn more, visit www.desy.de/index_eng.html.

dSpace

dSPACE is the world's leading provider of hardware and software tools for developing and testing sophisticated electronic control systems. For over 25 years, dSPACE's high-quality, off-the-shelf software and hardware tools have empowered engineers to design and innovate, while dramatically reducing development times and cost. Within the academic and research and development area, dSPACE products support numerous technology development applications. Some recent projects include: high-speed robots, electric vehicles, intelligent-flying systems, satellites, steam turbines and active suspension systems, to name a few. dSPACE offers universities and research institutes flexible systems with all the options needed for the model-based development of mechatronic controls. dSPACE has put together attractive product packages, called ACE Kits, for universities. ACE Kits consist of real-time development systems that enable testing of even the most complex control systems in real time. All kits include software for seamlessly integrating the modeling tools MATLAB® and Simulink, and for operating the real-time hardware. ACE Kits are priced attractively for academic institutions. Through its headquarters in Paderborn, Germany, as well as its global network of project centers, subsidiaries (including Wixom, MI, USA) and distributors, dSPACE and its staff of 1000+ support new technologies all over the world. To learn more, visit www.dspaceinc.com.

GE Global Research

GE Global Research is the world's most diverse industrial research lab, with researchers working in every major technical discipline at our state-of-the-art centers around the world. Our scientists support all of GE's businesses, developing technologies for such industries as aviation, energy, healthcare, software and transportation. GE Global Research is headquartered in Niskayuna, New York and has four other multidisciplinary facilities in Bangalore, India, Shanghai, China, Munich, Germany, and Rio de Janeiro, Brazil. The Electrical Technologies & Systems organization has deep domain expertise in the electrical realm, ranging from nanofabrication, semiconductors, ASICS, microelectromechanical and microfluidic systems, sensors, and electronic devices, to electronics packaging, signal electronics, controls and automation systems, communications, electronic power conversion, rotating electrical machines and electrical power systems. The team supports a broad range of exciting applications for GE's businesses including wind and solar power generation, optimization of conventional power generation, Smart Grid technologies, electric drives and subsea power distribution for oil and gas applications, aircraft engine controls, aircraft power distribution, traction drives and controls for locomotives, and MRI, X-ray, CT, PET and ultrasound imaging for healthcare applications, to name a few.

IET

The IET is a world leading professional organization sharing and advancing knowledge to promote science, engineering and technology across the world. A professional home for life for engineers and technicians, and a trusted source of essential engineering intelligence. IET books in print and e-Book format cover all the key areas of engineering and technology.
For additional information visit http://www.theiet.org.

Quanser

Quanser is the world leader in control systems plants for research and education. Quanser devices are renowned for their modular, open-architecture design, performance, and robust quality. With an extensive range of products covering a wide range of motion types and application fields, Quanser systems provides the ideal platform to validate control algorithms and research. Key application areas include haptics, serial robotics, and autonomous robotics. Quanser systems are fully integrated with industry-leading software platforms including, LabVIEW™ and MATLAB/Simulink®. Quanser customers include over 2500 universities and colleges worldwide. To learn more about Quanser, visit www.quanser.com or contact them at [email protected]

SIAM

Visit the SIAM booth to check out our newest books: From Vector Spaces to Function Spaces: Introduction to Functional Analysis with Applications by Yamamoto and Computational Mathematical Modeling: An Integrated Approach Across Scales by Calvetti and Somersalo. The newest books in our Advances in Design and Control series: Applications in Regular and Bang-Bang Control by Osmolovskii and Mauer and Control and Optimization with Differential-Algebraic Constraints, Edited by Biegler, Campbell, and Mehrmann. Also available are Practical Methods for Optimal Control and Estimation Using Nonlinear Programming, Second Edition by Betts; L1 Adaptive Control Theory: Guaranteed Robustness with Fast Adaptation by Hovakimyan and Cao; and Shapes and Geometries: Metrics, Analysis, Differential Calculus, and Optimization, Second Edition by Delfour and Zolésio. And many more books for applied mathematicians, engineers, and computational scientists.

Springer

Come and browse our key titles in Control. Get 20% off print books and eBooks – and learn about MyCopy (a printed eBook for $24.99). We are proud to be the publisher of choice for numerous books, valued by researchers globally, and high-quality journals. Meet our Editors, discuss your publishing proposal and ensure maximum readership for your work, too! Springer, your partner in publishing. Find all offers online: springer.com.



Taylor & Francis Group/CRC Press

Taylor & Francis Group/CRC Press is a leading global publisher of technical and academic books and journals. Taylor & Francis Group publishes more than 1,500 journals and around 1,800 new books each year, with a books backlist in excess of 20,000 specialist titles. Visit our booth to review key books and journals in Systems, Control and Automation and receive 20-50% off on conference specials and complimentary journal sample copies. Talk to us about being a CRC Press Author!

The Journal of the Franklin Institute

Aim and Scope: The Journal of The Franklin Institute has an established reputation for publishing high-quality papers in the field of engineering and applied mathematics. Its current focus is on communications, signal processing, control systems, and their applications. For additional information visit http://ees.elsevier.com/fi.

Visual Solutions

Visual Solutions is the creator of VisSim, world-class graphical software for model-based development. VisSim combines a powerful nonlinear dynamic simulation with OMG 2.1 compliant UML state charts giving a powerful platform for model-based design. Visual Solutions partnership with Texas Instruments makes VisSim ideal for embedded development, giving access to a wide variety of low-cost development kits for digital power, motor control, and general embedded control. VisSim embedded projects are found in the cockpit of the Joint Strike Fighter, in the main control system of multi-megawatt wind turbines, electric vehicles, and medical respirators.
Since its founding in 1989, Visual Solutions has maintained a strong connection with the academic community. VisSim is used in classrooms and laboratories at thousands of universities and colleges worldwide. Students and teachers report enhanced learning, faster progression through course material, and better retention.
VisSim/Embedded Controls Developer lets you rapidly create low-cost embedded controllers for Texas Instruments DSPs and microprocessors. VisSim/ECD provides support of on-chip peripherals like PWM, quadrature encoder, event capture, CAN, I2C, Serial, SPI, ADC and GPIO, allowing a faster and deeper coverage of commercial actuators, sensors and communication buses. VisSim HotLink technology lets students interactively change controller gains on the target from VisSim, and observe on-target signals like phase currents and internal controller signals in VisSim digital scopes.
For more information, visit www.vissim.com.

Wiley

Wiley is the leading society publisher. Our scientific, technical, medical and scholarly business publishes on behalf of more societies and membership associations than anybody else, and offers libraries and individuals 1250 online journals, thousands of books and e-books, reviews, reference works, databases, and more. For more information, visit www.wiley.com, or our online resource: www.onlinelibrary.wiley.com .

Bronze Sponsors

The Bosch Research and Technology Center North America

The Bosch Research and Technology Center North America ( www.boschresearch.com ) with offices in Palo Alto, California, Pittsburgh, Pennsylvania and Cambridge, Massachusetts is part of the global Bosch Group ( www.bosch.com ), a company with over 50 billion euro revenue, 300,000 associates worldwide, a very diverse product portfolio, and a history of over 125 years. The Research and Technology Center North America (RTC-NA) is committed to providing technologies and system solutions for various Bosch business fields primarily in the areas of sensors, circuit design, wireless solutions, energy materials and technologies, complex simulations, software engineering, human machine interaction technologies, car infotainment, web technologies and autonomous systems such as robotics. In all areas we work in close collaboration with our partners at leading US universities, leading-edge industry partners, and other worldwide Bosch research, development, and marketing units.
---
Sponsorship Opportunities
ACC 2013 cordially invites your organization to participate as a sponsor and exhibitor. The ACC typically attracts 1200+ attendees comprised of an international group of researchers, engineers, scientists, and educators, making the venue an excellent opportunity for promoting your publications, products, and services.
There are three levels of sponsorship available in addition to a special sponsorship opportunity connected with the conference banquet
Bronze sponsor ($1,000)


Company/organization logo, name, and brief description on the conference website and in the printed conference program.

Silver sponsor ($2,500)


Bronze benefits plus …
Flyer or brochure insert in the conference registration packet
One complimentary conference registration
Exhibition booth or one additional complimentary conference registration

Gold sponsor ($5,000)


Silver benefits plus…
One additional complimentary conference registration
A special session organized by the sponsor on a topic of the sponsor's choosing (relevant to the conference). The session can be held during lunch hours on any day of the conference and will be listed in the program book and on the website.

Flight simulator sponsorship ($1000)
There is also a special sponsorship opportunity connected with the conference banquet.
The banquet will be held during the evening of June 18, at the National Air and Space Museum.

This sponsorship will support free use of the flight simulators for all attendees.
Sponsors will have their company name/logo on a placard at entrance to the simulator area.
You may elect this sponsorship after becoming a bronze, silver, or gold sponsor.
Note that there are only three of these flight simulator sponsorships available.
---
Exhibits


The ACC exhibit area typically features booths by book publishers, local and national organizations, and suppliers of software and hardware systems. Anybody interested in having an exhibit at the ACC should contact the Exhibits Chair, Sean Andersson.
Exhibitors will be able to set up their booths in the large foyer areas outside the Grand Ballroom and near the conference registration desk
Coffee break refreshments will be located in these foyer areas
Expect high volumes of conference attendee traffic flow by your exhibits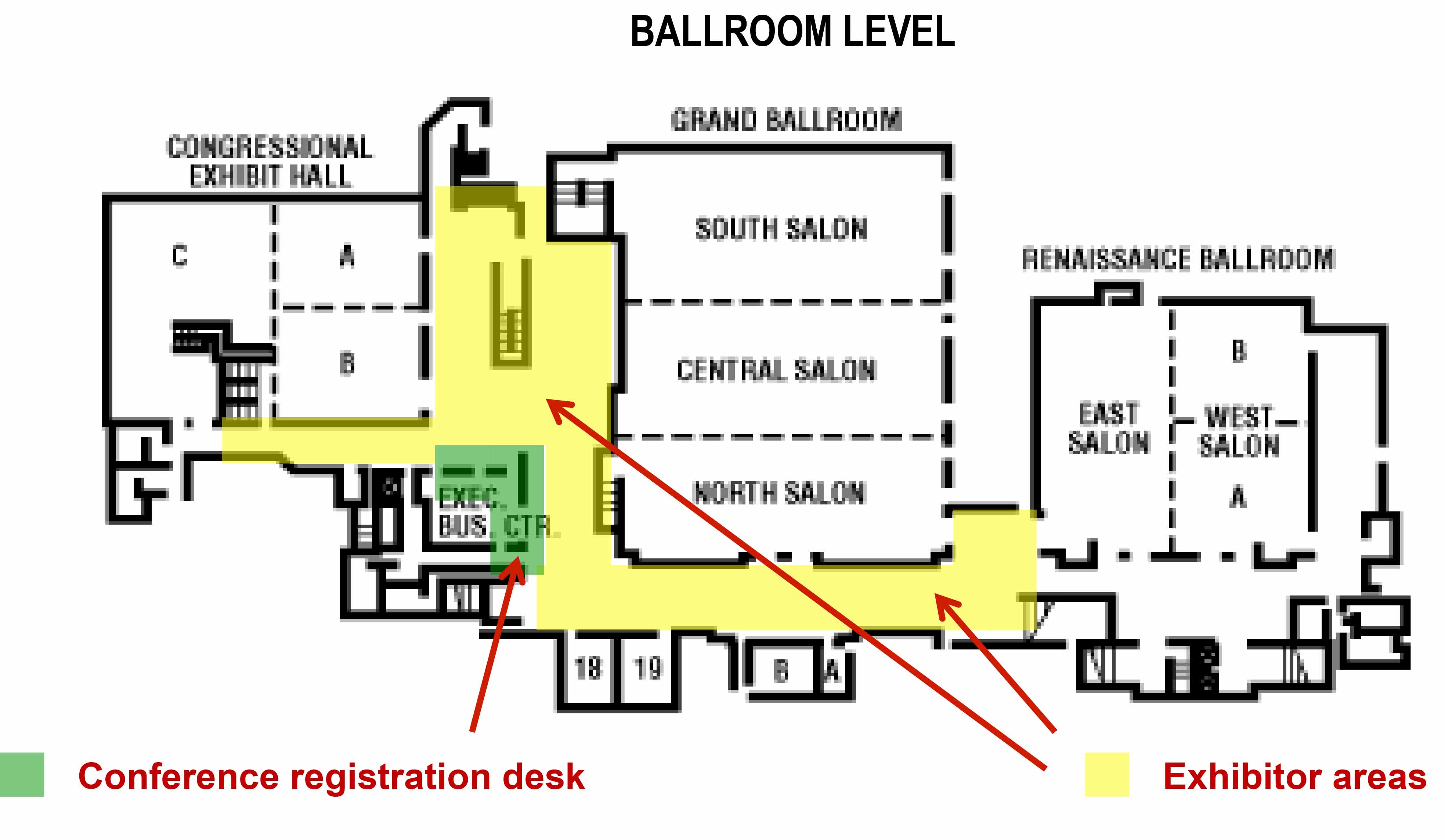 ---
Key Dates
Draft Manuscripts:
Due September 17, 2012 (closed)

Nomination for
Best Student Paper Award:
Nov 2, 2012 (closed)

Acceptance/Rejection Notice:
by January 31, 2013

Final Manuscript Submission:
due March 15, 2013
(closed)

---
Sponsorship Opportunities
Sponsor ACC 2013 and
have your logo featured here.

Gold Sponsors
Silver Sponsors
Bronze Sponsors